This is my 12.5" quilt block for Jo from the UK. This is for the My First Quilting Bee and Block Swaps group on Flikr. She sent gorgeous blue fabrics for me to work with, and I had a great time. She requested an Improv style quilt block, and I went for it. Never made one before, but I had such fun.
Here are the fabrics she sent me: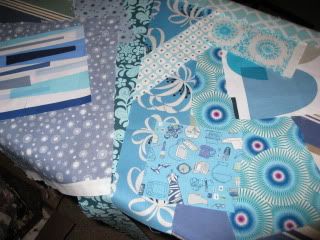 And this is what I made from it:
The bottom has this gorgeous snowflake like print that I couldn't bear to cut apart, so I framed it and had to show it off.
The block isn't horrible, I will get better at it if I practice more.
I send my fabrics in February for the My First Quilting Bee/Block swap group.. now onto thinking of which fabrics I'll be sending.
My ideas for my fabrics:
Anchors and Blues
Puppy Paws and a solid
Greens
Coffee Prints/Colors
And I still don't really know what I'm asking everyone in the group to make.. it's a tough decision!