I just have to add the label to it and then I can show everyone! Next time I get it in my head to hand quilt with metallic thread, just smack me. It was so tough to get the quilting right with it. After one swirl, I realized I needed to double the thread (I know Quilt Police.. I know) but I was constantly breaking the thread and the only way I could get it to work and not break was to double it up. But in the end I think the doubled up metallic silver thread really looks awesome, and it looks like swirly snowflakes quilted in..
Hehe.. you have to wait until tomorrow to see the final photos.
And now, I've got no idea what to do with it, or where to put it. Terry and I moved into our house at the end of June, so our walls are still pretty bare.. and I'd like to keep it up for all of winter I think.
And just for fun.. here's Terry and me: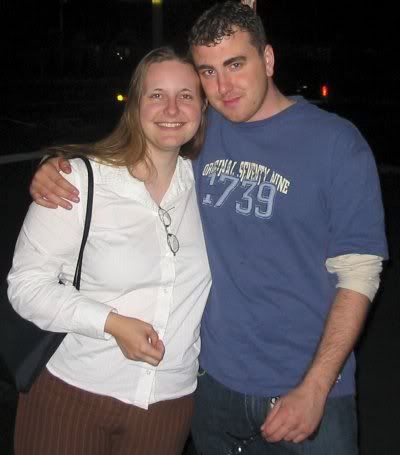 This is the WIP I was mentioning before: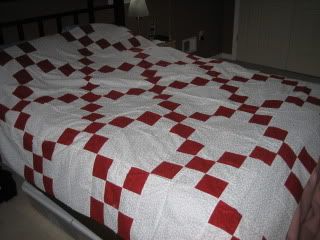 This is going to probably also be hand quilted - the blocks are 12.5 inches each. Terry wanted me to make it for our wedding - 3 years ago! Oops.. I never finished it. I'm unsure of what design to quilt in it, I was thinking in each of the larger blocks something that is representative of us.. maybe in one block an outline of the USA, and one of the UK.. maybe an airplane, I'm just not sure. The quilt is about 120x120 without an extra border, and maybe I won't add one. I'm unsure about that. What would you do?