Well, this is my first post in this new blog. A few years ago, I had a blog, but in the course of my husband moving from the UK to the USA, having our immigration interview (and DH getting his Green Card!!) having a baby, finishing graduate school, computer crashes and moving house (all while working full time) I lost the URL and password. So here's the new blog. I'm calling it JellyBean Stitches because I love to stitch and JellyBean is the nickname of my 7 month old daughter. My husband and I called the baby JellyBean when I first found out that I was pregnant and we didn't know the baby's gender. JellyBean just stuck.
We just moved into our new house at the very end of June, and it is difficult unpacking with a curious 7 month old who is crawling into everything. My goal is to finish unpacking the one room where all the boxes are before I go back to work in September.
I'd like to say that I'm a craft addict. I love crafting - I'm not really good at it, but practice makes perfect right? I cross stitch, embroider (still learning some stitches), do general sewing, and quilting. Probably like most crafters, I learned from a family member - my Grandmother. My grandmother is now 86 and doesn't really do stitching anymore, she's the one who taught me how to cross stitch, embroider and
quilt. I love the look of crochet and knitting, but for the life of me I can't figure them out (and I've tried the lefthanded books and instructions)
So I guess now I'll do a little show and tell on a few of my quilts. I'm by no means an expert, nor am I as good as a lot of the quilters I've seen online, but it's something I love to do - and that's what matters right?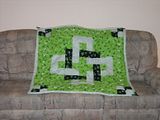 This one was made for my god-mother who is Irish. It was one of my first quilts, and I created the pattern on graph paper. It's tied with little shamrock buttons.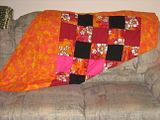 I just adore this quilt. I don't know why really - the background is really kind of ugly, and it's super bright, but I love it. I call it my Hawaii 5-0. :)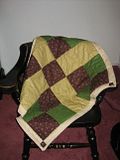 Not really sure what I was thinking when I made this one. The brown is still one of my favorite fabrics, and I have just enough left for another project, but I'm not sure what I'm going to do with it since I don't have many reproduction fabrics left.
And here is a close up of a crazy quilted fabric postcard I made for a swap a couple years ago. Sorry the quality isn't better, but it was the only photo I could find.