Today was pretty busy. One of my friends from work invited DH, JellyBean and me over to her house for dinner and some video gaming on the Wii. We played Wii Sports at the Resort and it was a ton of fun. I won the Frisbee game on it, and nothing else. But I had fun with it - and it was so much fun! DH won a few of the games, one of them was Canoeing and the other was Archery. JellyBean fell asleep about four hours into being there, so we drove back home. It's not a long way, but it was about 30 minutes of a sleeping baby in the car. She hadn't napped at all since getting up at 6 AM, so it was a nice little break for Mommy and Daddy.
Tomorrow I have 3 more of my co-workers coming over to have a mini house-warming party. There are still a bunch of boxes in one room, but overall I think that I have gotten the house to a relatively neat and orderly state. It always seems like there is just "one more thing to do" before I go to bed at night. But, since having JellyBean, I've really learned to relax and let things go - or at least make reasonable priorities.
Here's the progress on the quilt. Since these photos were taken I've gotten 4 more blocks quilted, and it really feels to me like I'm making progress. I just hope to keep up this good progress and have it totally done before I go back to work in September.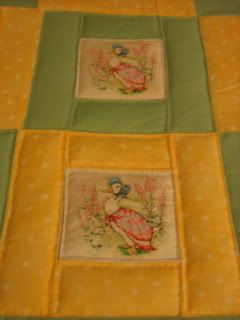 And here's a few close-ups of the center squares. I fell in love with the fabric and wanted to make something beautiful for my beautiful little JellyBean.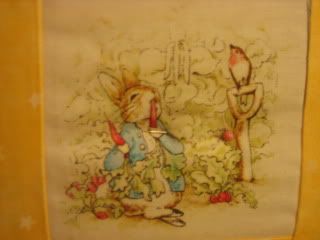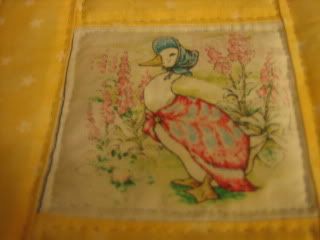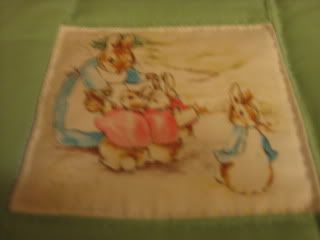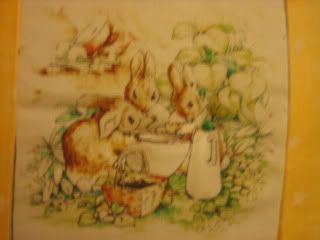 I've got a handful of these blocks left over, but they're only about 7 inches or so(I forgot the exact measurements of the blocks) and I have no idea what to do with them. Any ideas? Feel free to comment!
And after I finish this quilt, I'll be making miniature quilts for Alzheimer's research. I've been following Ami Simms and her work for a while, and I decided that I was going to make the $1000 promise. Goodness knows I've enough orphaned blocks laying around and ideas to make some miniature quilts. If you don't know about this project check it out here:
The Alzheimer's Art Quilt Initiative
Till tomorrow night! Have fun