Today I embark on a new challenge. So far, all but one of the quilts I've made have been machine quilted. The one quilt I did hand quilt was only an 8x8 and it wasn't really a proper "quilt". It was made when I was really young and I needed a doll house rug - so I can't count that. And besides, I didn't have a sewing machine back then.
Now, I've started the journey to hand quilting my daughters Peter Rabbit quilt. I started making the top before she was born and completed the top in November 2008, right around Thanksgiving. Because I was due in the beginning of December 08, I couldn't sit in the sewing chair for too long (I was *huge*!!) so the top went unfinished until now. I wanted this quilt to be something super special for my daughter - she's our first child. I poured hours of love into making the top, and I wanted to do something equally as nice for the quilting. But, as I got bigger and bigger, the less and less I could sit in the chair. Even finishing the top before she was born was a true labor of love (pardon that pun). Then after she was born, I was too enthralled with a new baby and I wanted to be with her all the time, so sewing and quilting definitely took a back seat. I packed up all my fabric and other sewing treasures and concentrated on being a good mom. In April, DH and I started looking for our own house. We found a house that we fell in love with and closed on it in the last week in June after I finished work for the school year. We planned it this way so that I have the summer off to unpack and relax before the school year starts again. So again, all my sewing stuff stayed packed up for the move. I've got a lot of the unpacking done now, there's still about twelve boxes left to unpack, but now I can devote some more time to sewing - and now I've got my own sewing space - not just on the dining room table anymore! When I get my sewing space up I'll post some photos.
So now, the hand quilting has begun. I think what I'm going to do is to quilt in the ditch around the blocks, and quilt her name into the border. I've got this awesome variegated thread that is purple, light blue yellow and light green that matches perfectly with the quilt top.
I hope that when JellyBean grows up she realizes how much love went into the quilt, and still loves it - faults and all.
Here's the quilt in the hoop: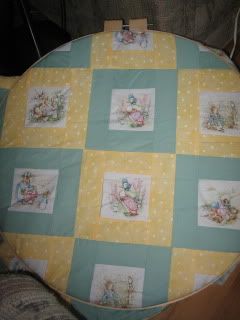 Close up of one of the blocks: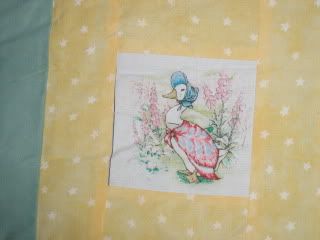 15 minutes into the hand-quilting: (Apologies for the lightness. I hope you can see the stitches)