JellyBean and I went shopping today. We actually went out to get something for dinner - strawberries, mandarin oranges, lettuce, chicken and croutons. It was absolutely delicious, but I digress. So on our way, we stopped into a store that I've seen tons of times, but never actually been in. Today we went in, and wow, there were some awesome deals. The basic set up of the store is kind of like a Big Lots, but smaller - it's got brand name stuff at close-out prices. Of course, I had to walk up and down every single aisle, even if I wasn't buying anything. But then, I saw the aisle "Home Goods" I never ever expected to find crafty stuff in it - but I did. They had brand name quilting supplies for dirt cheap. I got all of this for under $15! In the kit to the left, there is a book with 17 different patterns in it, as well as containing 3 triangle templates for $6.99, the 3 templates at the top of the photo (two purple triangles and one orange diamond) were only $3.99! And the other two rectangular rulers were only $3.99 for both!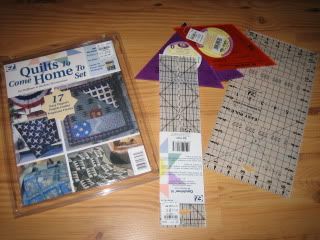 And now as I write this, I've got my hoop next to me, and I'm about to work on some more of JellyBean's quilt.
Question for anyone who's reading this - The border of the quilt is just a solid white - should I quilt her name on each side of the border? That's what I'm planning on, but I'm not sure if it'll look "right" having her name 4 times on the quilt.. What do ya'll think? If I take your idea, I'll make a little gift for whoever's idea I do take.
Now, for my idea.. I'd really like to put together a freebie block of the month for anyone to download. I'm not sure if I should do applique patterns for a quilt or wall hanging. What would you all like to do? Is there any interest in this? Just leave me a note and let me know what you think and if you're interested in it or not.
Till tomorrow!