And here are a few more things to show off to everyone!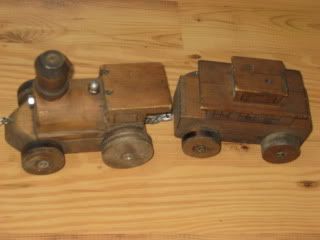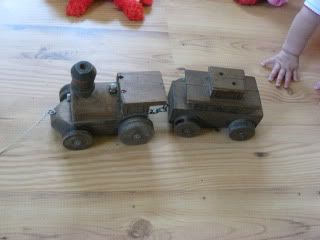 These two trains were made by my father 26 years ago for me to play with. My husband and I were cleaning out my mom's attic (at her request) and we came across these trains. We got them down for JellyBean who's 9 months, and she loves playing with them. It would warm my fathers heart to know that she's playing with them. My Dad never got to meet JellyBean, he died in 2007, and it means the absolute world to me to know that my daughter loves something her Grandfather made with love. You can see JellyBean's hand in the bottom picture. She actually hasn't left the trains alone since we brought them down out of Mom's attic and washed them off. I think they've held up well for their age ;-)
And a Private Swap Quilt:
This is for the lovely Spiced Coffee on Flikr. She's my California! She picked "In the Garden" as her theme, and since I'm not a gardener (bugs need habitats too!!) I picked two things I just love in gardens - butterflies and flowers.
Here it is shown just after it was hand quilted, and before it was bound. The large flowers are raw edge appliqued, and the smaller flowers are backed with interfacing and sewn to the mini by tiny buttons. It's now winging it's way to California where Spiced Coffee will give it a lovely home.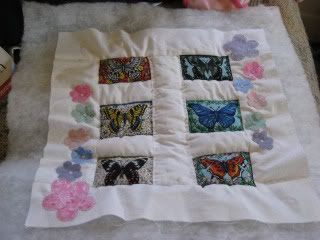 A close up of the tiny flowers. They're about 1 1/4 inches each.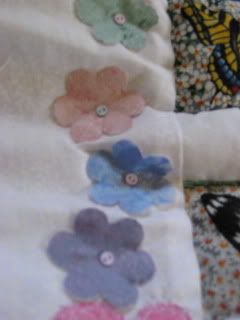 The back of Butterfly Garden. I couldn't really find any good "garden" fabric for the back, so I went with one that had flowers and butterflies and lily pads.