By blog hopping by chance, I found this awesome site that helps show you how to do free motion quilting. And she's got some You Tube videos too:
Free Motion Quilting
I've got an older machine, my trusty White, and it's been giving me some hiccups. I'm trying with it, but sometimes it's just sticking - and I've oiled it. So I'm going to practice with some of these new techniques that I've learned and hope my machine stitching gets better. But no matter what, I still love hand-quilting little projects. They're just so much fun and relaxing.
Speaking of hand quilting - I'm making more progress on "First Snowfall" It's almost totally done now, just a few (10 or so) more curly-q's.
Progress Photos:
The front of First Snowfall: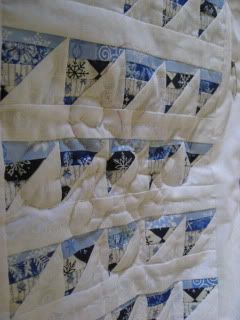 If you look close you can see the disappearing ink pen for my guide.
And here's the back: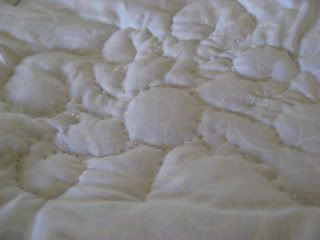 I used the same white on white fabric on the back as I did on the front for the triangles and the borders. I'm really loving this quilt - but I'm not sure what I want to do with it when it's done. This was originally going to go to the Holiday Quilt Swap - but it's too small by 2 inches for the minimum size so that's out!
I'm working on the final one that will be going to my Holiday Quilt Swap Partner - that one is Penguins! And I'll have a photo of the 3/4 finished top soon - probably in a day or so.
And this is the floor after JellyBean reaches into one of her toy boxes.. Not that I mind in the least bit.