First up, a possible mini for the Holiday Mini Quilt Swap. It still needs another 3 inch border or so (or a combination of borders to equal 3 inches) before it becomes 16x16.. but I'm starting to like this one.
I do have 3 others in the works, they all have pieces cut out but not sewn together yet. What do you all think? Would you like to receive this as a swap quiltie? I'm planning on hand-quilting it.
And here's the start of the quilting (again by hand) on the mini quilt top "First Snowfall"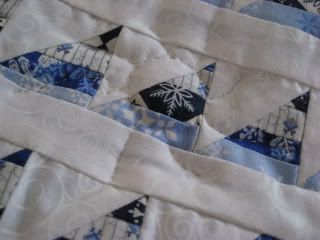 Here's a different view. I'm quilting a swirly snowflake in it.
...and....
Quilted New Jersey: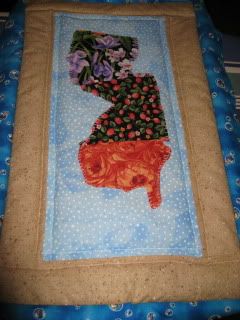 I drew the pattern for NJ freehand on paper, and then decided that I wanted to applique it on, so I used my trusty machine and machine appliqued it. But since New Jersey's nickname is the "Garden State" and I had a few 4.5 or 5 inch squares of strawberry fabric, and some floral fabric left, I chose to make it a true, "Garden State"
And the label for the quilt (not yet attached) is in the shape of NJ too. I'll post that once it's attached to the quiltie.