Baby Hands! These are JellyBeans hand prints I put on fabric and I've made a mini wall hanging for my grandmother out of it. So ya, here's JellyBean's hand prints. These were traced when she was 6 months old - so 2 months ago. Wow, has time flown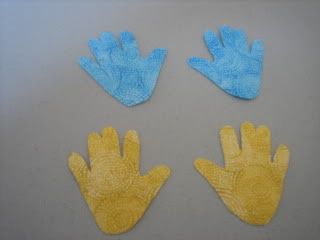 I finally found a Block of the Month that's free and "Manly" because Terry has been really bugging me about making him a new quilt. *Sigh* Yet another project that I need to do. I keep promising, and then getting sidetracked by an 8 month old.
Southern Gentleman BOM
And I know that I've promised you all a block of the month too - I'm right now in the process of putting together the sample block. I'm thinking to make the block 12.5 inches unfinished, so it'll be 12 inches finished. It'll have some teddy bears on it. :D I'm excited.
And ya.. I think I might have found a new little obsession -
Siggies
I emailed the blog owner to find out what size they are, and what I should exactly put on them, but these look like so much fun. I think I'm going to have to try one (or a dozen). Looks neat. :)
And I've printed out all these patterns, and I hope to embroider them soon. I think they'll be a gorgeous lap quilt.
Gail Pan Designs
I just hope I can get the time to do them. I really love them.
And just a quick reminder - my
Giveaway
ends on Friday, August 14th. I'll be picking the winner at 4:00 PM, Eastern Time. I'll be using a random number generator to pick the winner.