Whoo hoo! JellyBean went to bed last night at 8:30, and Terry went to bed right after because he was tired from all the driving he did on Saturday and playing in the pool with JellyBean and my mom yesterday so I got some sewing time in! I'm so excited.
I was going to send this quiltie away for the Holiday/Winter Quilt Swap, but I made another one that I think is going to be much better because it'll have some more space for me to quilt. So this is a quiltie that I'm going to keep and use as a wall hanging. But I got 2 mini quilt tops done yesterday, and the pieces for my grandmothers eyeglass case are cut out and ready to be quilted.
So here's my Quilt Top. I'm calling it First Snowfall.
I went from these: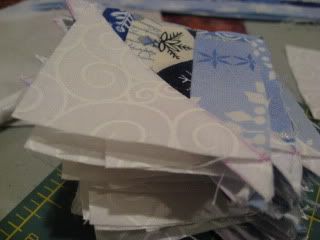 To: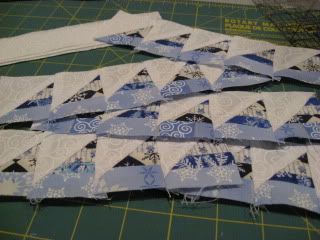 And finally: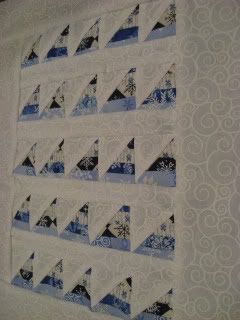 To give you an idea of how tiny the blue pieces are, I cut them into 1 inch strips, so they're about a 1/2 inch finished.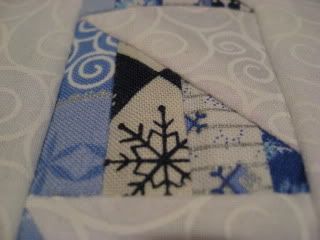 And here's the only sneak peak that I'm giving for the Holiday/Winter Quilt Swap. I've taken most of your suggestions and am going to quilt this up in a day or so (maybe tonight?)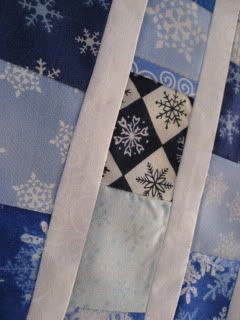 And a photo of my little dollar store pail that I filled with scraps and garbage during my quilting last night: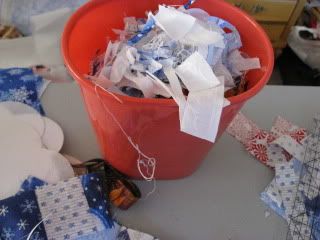 And if you get a chance - go here:
Prairies Edge Primitives
for a chance to win a gorgeous pin keep.