I've started on 3 different winter quilts, because I really don't know what I'm planning on doing yet. I'm considering making an applique snowflake too, but right now I'm really liking the look of this Snowflake Print Dresden Plate: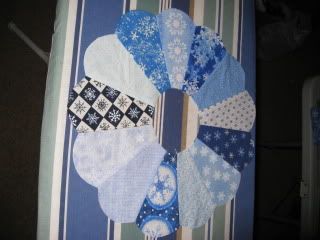 And then with some leftovers of the snowflake prints, I've made some coin strips that are 4.5 inches wide, and 2 inches high. You can't tell from the photo, but there are 4 strips here, each measure about 18 inches tall. I've got a gorgeous white on white fabric that would look lovely between the strips, - so I might do that as the holiday quilt.. I'm just not sure. Oh the possibilities!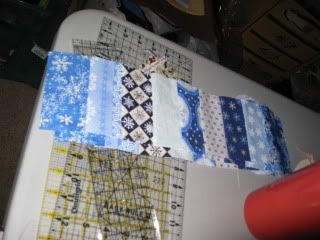 And for my Aunt Janet - I got the idea while doing the other Dresden plate. Aunt Janet recently found out that she is in remission from Ovarian Cancer, and she absolutely loves flowers. So as I was looking through my scraps of fabric I found awesome brights - and the scraps were the perfect size to make into another Dresden Plate. See?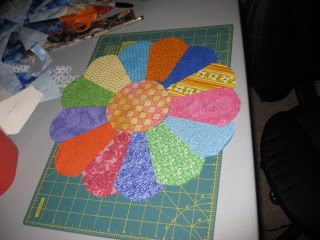 This is the photo of it not sewn together yet, but I've sewn the blades together, and I'll have to applique the center in, but I just love the way it's looking so far. I'm thinking that I'll make it into either a wall hanging or a table topper. And I'm thinking a white or cream center, with a nice purple border/binding.
I'm still handquilting away on JellyBeans quilt, but every now and then I just need a break. So far, it's the largest thing that I've hand-quilted.
Di - I love the idea of the pillowcases, I'll probably make some for the nieces and nephews.
And - Don't forget my
Giveaway - Just leave a comment here!