Whoo hoo! As soon as I get my swap partners (there will be 6 of you because I signed up to make 12 blocks!) your blocks will be going in the mail! I finished all the blocks this morning while JellyBean went down for a nap which she hardly ever does. She slept for 30 minutes and in that time I got to finish the last of the blocks for the swap. I'm charging up the camera battery and then I'll take a picture for you all to see. I had such fun making the blocks, I made 16 of them: 12 for my partners, 2 for charity and 2 for me. :) I really can't wait to get the blocks and put them together into a lap quilt, or wall hanging or something for JellyBean! I hope whoever gets my blocks likes them. Some of the fabric I picked has a little glitter bit to it - thought it added a little pizazz.
Last night I made more progress on JellyBean's Beatrix Potter/Peter Rabbit quilt. I finished quilting 12/30 blocks, and still am unsure what to do for the borders, but I've got time for them I think. I'd love to get it done before I go back to work, because once school starts I'll be so busy. Here's the progress so far: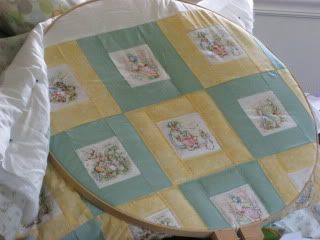 And JellyBean is now figuring out how to stand up on her own. She'll try to take some steps when you're holding under her arms, but her little legs give out after about 15-30 seconds. I'm so exccited for her, but scared for me that she'll be walking pretty soon. She'll be 8 months old in 13 days. I really think she'll be solidly standing and starting to walk by 10 months at the latest.
And I've almost finished designing my first Block of the Month for everyone. I've not yet figured out how to get a PDF file to show up here, but I'm sure that I'll figure something out for where to put it.
Till later!